FRANCIS XAVIER - JESUIT, MISSIONARY AND SAINT

Born in Navarre in 1506, he was the youngest in the family, and lived in a castle which boasted its own private chapel. Sent to study in Paris, he encountered Ignatius of Loyola and joined the inner circle - the founding members of the Society of Jesus.

Obedient to his priestly vows, and filled with the zeal to share Christ with the world, he left for Goa in 1541 on his 35th birthday. Immersing himself in his ministry, he brought back to the fold, those who had wandered from the faith and attracted many others to join. Legend has it that he walked through the streets ringing a bell to call people to prayer!

His travels took him to Malacca and Japan. He fell ill and died in 1553, while on the way to China and his body was eventually returned to Goa where it is preserved in a special casket in the Cathedral of Bom Jesus.

The bell he rang as a young missionary still echoes in the hearts of the people with whom he has found his permanent place of rest.

Feast of St. Francis de Sales: Patron Saint of Catholic Writers and the Catholic Press

He visited the most remote parishes to preach, hear confessions, and reform religious communities. He simplified Catechism for children, and was best known for his widely circulated handwritten leaflets on Catholicism. And he did all this with the friendliest disposition!

"You can make friends of enemies with one little smile, rather than a hundred barrels of frowns!"

Ditch the frown and flash your smile.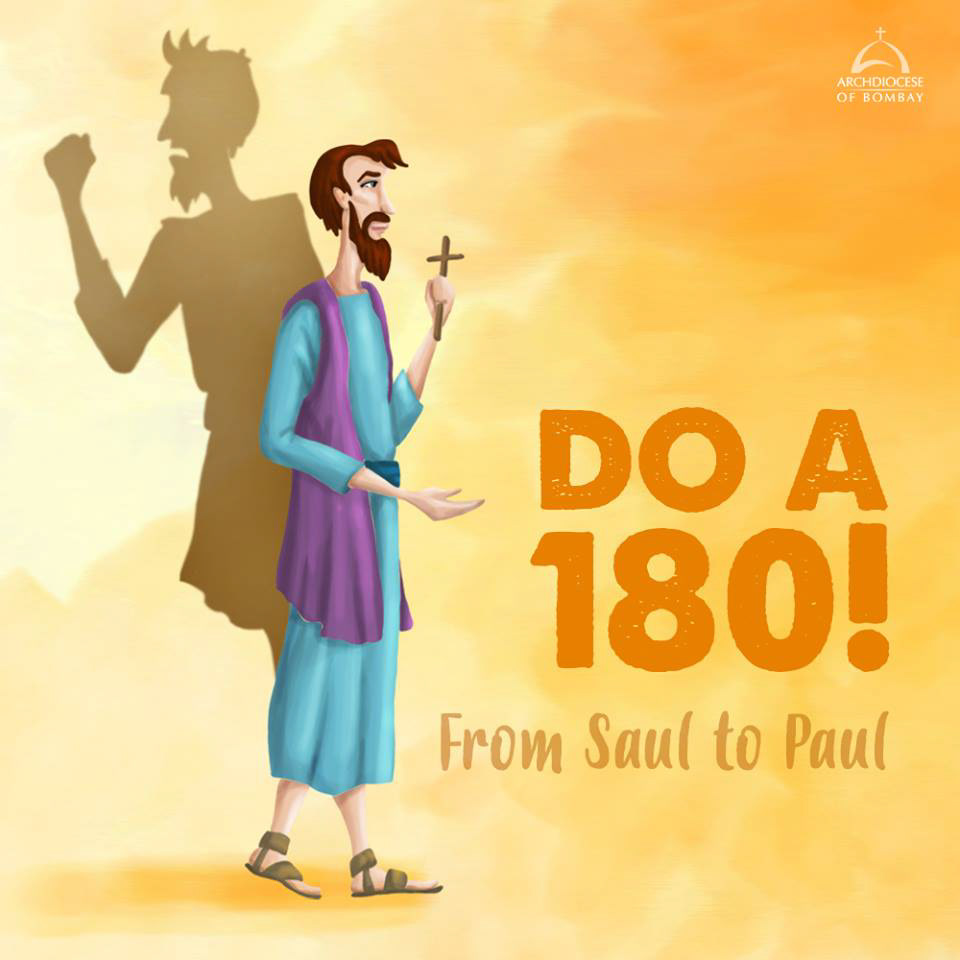 He went from being Saul to Paul, from persecuting Christians to dedicating his life to proclaiming God's Word.
St Paul did a 180, and changed his life!
If there's something in your life that needs changing, do it now. Don't wait for God to zap you!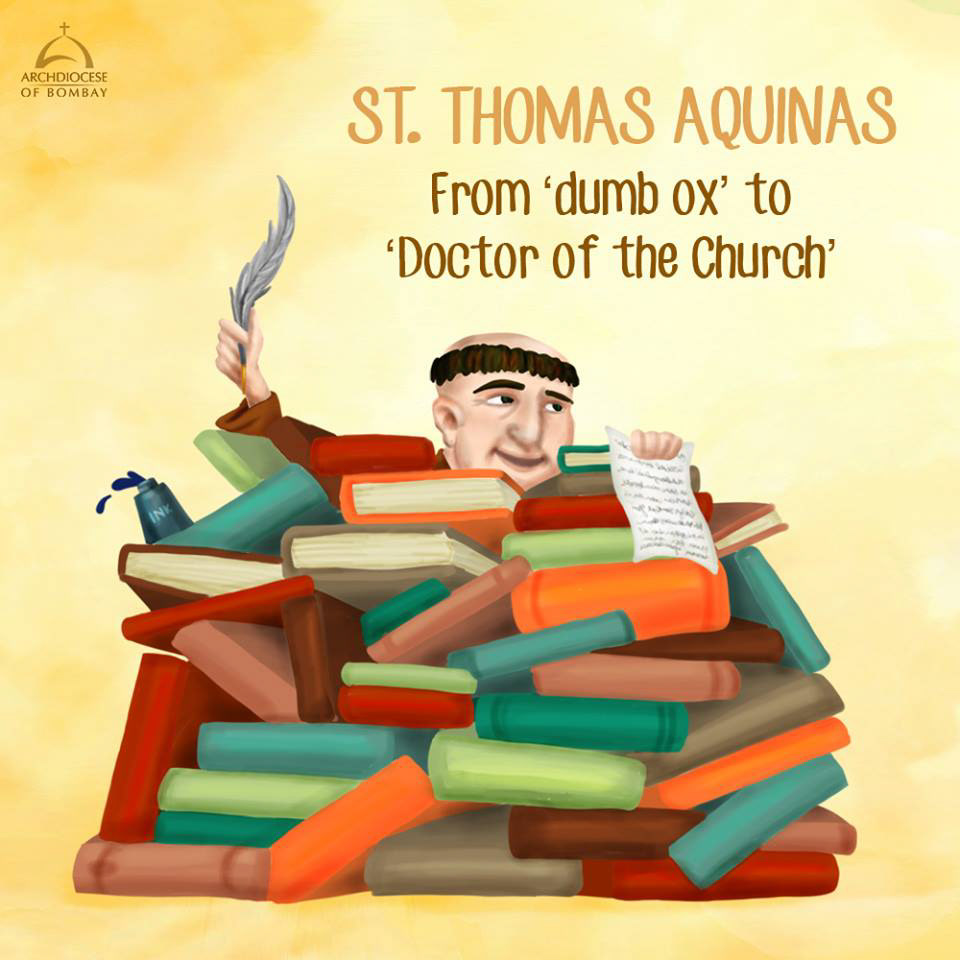 Today we celebrate the Feast of St. Thomas Aquinas, patron of all Catholic educational establishments. 
St. Thomas was a quiet child as his brain was busy!
Though the other children called him 'dumb ox', St. Thomas grew up to become one of the Catholic Church's greatest theologians and philosophers.
Perhaps it's better to get to know the 'real' person before you jump to conclusions!

Today we celebrate the Feast of St. John Bosco- Patron Saint of Apprentices, School Children, Magicians, and Juvenile Delinquents.
From early childhood on, St. John Bosco dreamed of rescuing young lads from evil ways and believed that they could lead better lives if they were provided with better opportunities. 
He opened homes and schools and held workshops where neglected and poor children could come to live, to learn, and to be loved.
Without a second thought, he provided them with a second chance!

We form impressions about people in a second. 
Are we ready to give them a second chance and truly understand them?

St. Anthony is known as the Patron of ALL that is considered lost.

We lose things all the time, and sometimes we lose touch with people and even with God. St. Anthony - eloquent preacher, ardent devotee of Jesus and finder of things - can help us rediscover what we have lost!

Is there anyone you have lost touch with? Family? Friends? Reconnect today!


Today we celebrate the Feast of St Gonsalo Garcia, a native of Bassein (Vasai). 

Although a catechist for the Jesuits in Japan, from a very early age, he was not admitted to the Order. Giving up his dream of a religious vocation, Gonsalo moved to Macao and became a merchant. On a business trip to the Philippines, his desire to become a priest was rekindled and he joined the Franciscans. 

In the Franciscan monastery in Manila, Gonsalo did the shopping, which allowed him to befriend the Japanese he met while on his errands. In this way, God had provided him with the skills to interact with the local Japanese community, and when the Franciscans opened a mission in Japan, Gonsalo was appointed there. When persecution broke out in Japan, he was martyred on a hill near Nagasaki in 1597. 

In 1862, Gonsalo Garcia was declared a saint by Pope Pius IX.

St. Ignatius of Loyola aspired to military fame and fortune with his customary single-mindedness till he was hit by a cannonball which shattered his leg. During his very long convalescence, the only reading material available was about the life of Christ and the lives of the Saints. That was the turning point and the rest is history, as the Jesuit presence in the world today will testify. Truly God works in mysterious ways and when the human instrument is as determined as St Ignatius was, the result is wonderful.

The Archdiocese of Bombay wishes the Society of Jesus (Jesuits) a happy feast.

In his early days as the Curé of Ars, through his powerful sermons, St. Jean Marie Vianney converted the staunchest of unbelievers. With great pastoral zeal, he committed himself to this cause, and would spend hours in the confessional. His life is viewed as a true example of priestly holiness. And so, in honour of our priests, we celebrate the feast of St. Vianney, every year on the 4th of August. St. Jean Marie Vianney was canonized on May 31, 1925.

The Archdiocese of Bombay wishes all Priests a happy feast.
You could wish a Priest by tagging them in the comments below.

According to legend, there was a young boy who had a fish bone stuck in his throat and was saved from choking to death by St. Blaise. 
On the Feast of St. Blaise, priests touch the throat of each person with two candles joined together in the form of a cross. They say a little prayer asking God to bless you and keep your throat healthy always.